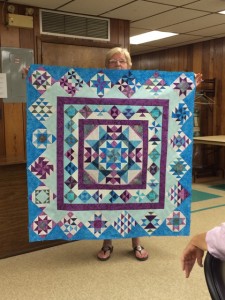 Pieced Together Quilters is a non-profit organization offering its members many opportunities for inspiration, encouragement, knowledge, learning and friendship. The love of quilting, the desire for fellowship, and the preservation of the art of quilting brings these members together. Membership is open to anyone who loves quilting and beginners are encouraged to join.
When: Meetings held Wednesday evenings, the second and fourth Wednesdays of the month. Social meetings in July and August.
Where: Green Knoll Rescue Squad Building, North Bridge Street, Bridgewater, NJ.
Time: 7:00 – 9:30 p.m.  For information, please contact fatqrter@aol.com
PTQ is a member of the MAQGNET (Mid Atlantic Quilt Guilds Network). The Guild participates in service projects in their community and supports the Heritage Quilt New Jersey.
Address: Pieced Together Quilters, P.O. Box 8097, Bridgewater, NJ  08807
Handicap Accessible